Troy D. VanAken, Ph.D., began his term as the 14th president of Elmhurst College in July 2016. Since his arrival, the College has seen historic enrollments, record fundraising results and has achieved a stable financial foundation on which to build.
With this positive momentum, President VanAken is <![if !vml]>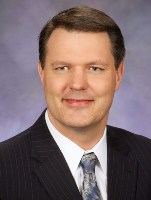 <![endif]>focused on the future of the College. In 2021, Elmhurst will celebrate its 150th year of educating students and preparing them for meaningful lives and careers. In anticipation of this anniversary, President VanAken led the development of a collaborative strategic plan that engaged the entire Elmhurst College community.† The Elmhurst College 2021 Strategic Plan will serve as the blueprint for the future of the College.
Before coming to Elmhurst, he served as president and professor of mathematics at Thiel College in Greenville, Pennsylvania. Among his accomplishments at Thiel, President VanAken oversaw a major capital campaign that exceeded its $60 million goal 10 months early.
Previously, President VanAken served in a number of roles at Albion College, including executive vice president, vice president for finance and management, vice president for information technology, and athletic director. Along with his extensive background in higher education, President VanAken was a successful business entrepreneur and owned a number of technology companies.
In addition to his experience as collegiate athletic director, President VanAken has served as a high school football and track coach and has done committee work for the NCAA and collegiate athletic conferences.
He holds masterís and doctoral degrees in mathematics from Bowling Green State University and a bachelor of science degree from Hillsdale College. President VanAken and his wife, Dr. Annette VanAken, have two adult children, Trey and Gabriella.